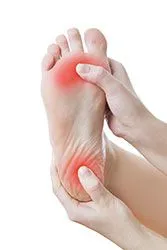 Foot Pain in salem, Or
Foot pain is probably one of the most common reasons people come into our Salem, OR, practice to turn to our podiatrists Dr. Trevor W. Tippets, Dr. Bryce Rich, and Dr. Sean Westover for answers. While minor bouts of fleeting pain can often be treated with simple home care, there are moments when you'll want to turn to a foot care professional for treatment.
First and foremost, you should never ignore any kind of pain, particularly pain that impacts your feet and ankles. After all, foot pain that keeps you from performing at your best or enjoying everyday activities should be addressed by a qualified podiatrist. Of course, foot pain is rather generic and countless issues could be going on, which is another reason to turn to us for care. By finding out what's really going on, we can also map out a treatment plan that caters to you and the exact issues you're dealing with.
When you come into our practice for a consultation, we will examine your feet, ask you questions about your foot pain (including location, when it started, and the severity), and perform a physical exam and imaging tests to rule out certain conditions while also making a definitive diagnosis.
There are many causes of foot and ankle pain including:
Arthritis
Plantar fasciitis
Achilles tendonitis
Bone spurs
Bursitis
Bunions and hammertoes
Sprains and strains
Fractures
TYPES OF FOOT PAIN
Foot pain in the area between the arch and toes, or ball of the foot, is generally called metatarsalgia . The pain usually centers on one or more of the five bones ( metatarsals ) in this mid-portion of the foot. Also known as dropped metatarsal heads , metatarsalgia can cause abnormal weight distribution due to overpronation.
Metatarsalgia (foot pain) occurs when one of the metatarsal joints becomes painful or inflamed. People often develop a callus under the affected joint. Metatarsalgia also can be caused by arthritis, foot injury (from sports, a car accident, or repeated stress), hard surfaces (cement or tile floors), and specific footwear (rigid-soled work boots).
A simple change of shoes may solve the problem. In more severe cases, custom orthotics may be prescribed to alleviate the pain and prevent overpronation.
Any kind of new or worsening foot pain should be checked out by a podiatrist, especially if your foot pain is the result of an injury or accident. By seeing a doctor right away we can provide you with the proper treatment you need to heal properly. Putting off treatment, however, can lead to weakness, limited range of motion, chronic pain and inflammation, and long-term instability. This is why it's important to turn to our team if you are dealing with foot pain that doesn't go away within a couple of days of home care, or pain that gets worse or is severe.
From custom orthotics and stretching exercises to physical therapy, splinting, and laser treatment, there are so many ways to treat foot and ankle pain. We offer a comprehensive range of services and state-of-the-art technologies to ensure that you get the very latest in podiatric care here at Cascade Foot Center.
Cascade Foot Center is proud to serve the Salem, OR and surrounding areas. If you are dealing with foot pain, you aren't alone. call Cascade Foot Center at (503) 588-8188 today!